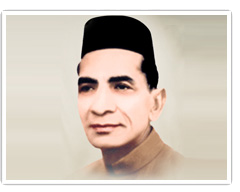 SIR SHRI RAM
Lala Shri Ram was born on April 27, 1884. He joined DCM, when he was 25 years old. He possessed an analytical   mind, and an infinite capacity for work, a knack for human relations. His view of business and perhaps of himself was put down by him in later years in rather revealing statements, "In my humble opinion, business is not merely a matter of attending work for a few hours. It is a matter of thinking, dreaming, imagining and working."
His vision was to create best day & boarding schools in India
He established "Shri Ram College of Commerce" and "Lady Shri Ram College", Delhi.
Lala Shri Ram's association with the College continued till 1962, when because of failing health, he resigned. His health continued to deteriorate and he passed away on January 11, 1963.
On the death of Lala Shri Ram, Dr. S. Radhakrishnan, the then President of India said, "He was not only a great industrialist but also helped many good causes."